A Night to Remember at the Spring Coffeehouse
There is no event that has students circle the date on their calendar faster than the Spring Coffeehouse. Nothing can bring the Hackley community together like a night in the Zetkov Center listening to the musical gifts of students.
To kick the night off, senior hosts Ella Rodriguez and Ava Lattimore appeared out of a side entrance to a roar of applause from the crowd. The two seniors kept the crowd entertained all night with different jokes and questions throughout the show, including a "How well do you know your best friend" skit that took a pair of best friends from each grade to see which grade level's best friends are the closest.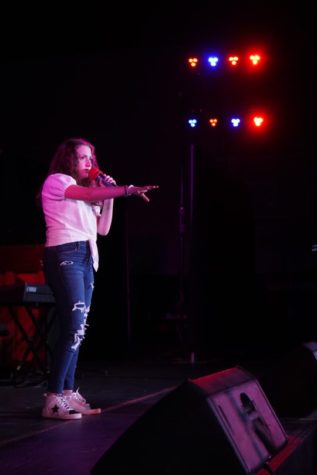 Cara Minello and NT Trusa brought in strong performances that well-represented their freshman class. With Cara's performance of "All I Wanted" by Paramore and NT's "War Pigs" by Black Sabbath, the Zetkov Gym was overflowing with applause and praise for the two outstanding freshmen.
Sophomore Arri Bentsi-Addison Posey jumped around on stage and belted out an uplifting rendition of "Everybody Talks" by Neon Trees that had the crowd on their feet.
"It's a blast. The energy from the crowd was electric which only fueled the passion for a fantastic performance," Arri exclaimed.
Sophomore Peter Roberts harmonized with senior Wylie Churchill in a mesmerizing duet of "Story of My Life" by One Direction. Peter Roberts was a new student to Hackley in ninth grade and has been infatuated with Coffeehouse ever since.
"My favorite part about Coffeehouse is seeing the Hackley community come together to support one another in a really fun night. When I get on stage, I feel a rush of adrenaline every time," Peter said.
The juniors gave it their all with six solo performances by Cole Slipe, Cassandra Stand, Sophia Kliatchko, Clifford Chapman, Remi Myers, and NJ Roc-Sennett. From Miley Cyrus to Michael Jackson, this group had the crowd on the edge of their seats.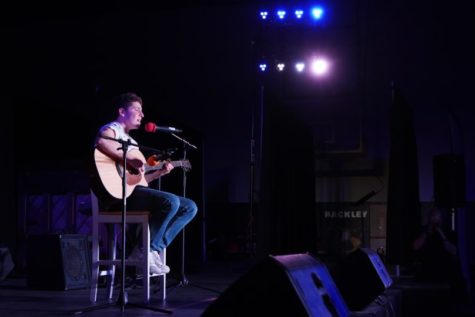 The seniors went all out in their last coffeehouse with a large number of students returning to cheer on their classmates and eight solo performances from Afsana Dhali, Kayden Jung, Wylie Churchill, Ella Rodriguez, Nailah Archer, Hudson Warm, and Hannah Gorevic.
For students like senior Wylie Churchill, the preparation can be just as impactful as the performance.
"My favorite part about Coffeehouse, weirdly enough, is the rehearsals," she said,"They are always a lot of fun and provide good practice before the real night. Coffeehouse has helped me make a lot of friends and step out of my comfort zone."
Senior Cole Joseph had an alternative approach to the normal coffeehouse act as he performed a couple of jokes during his stand-up comedy routine before bringing out his friends, seniors Daniel Paridis, Massimo Soto, Reece Weinberger, and Danny Zampolin to perform a comedic medley of "Beautiful Girls" by Sean Kingston and "Nothin' On You" by Bruno Mars.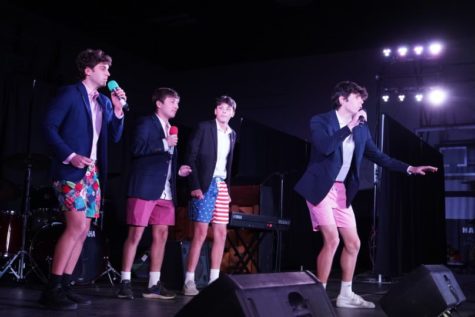 Hannah Gorevic's performance marked an important milestone in Coffeehouse history, as it was an unofficial end to her four year reign as the Coffeehouse Goddess. Her emotional performance of "Jackie Onassis" left no stone unturned and earned one of the loudest rounds of applause of the entire night.
None of these performances could have happened without the help and support of the HPA and HPA volunteers and the Performing Arts Department including Dylan Chalfy and Bill McNaughton as sound and technical directors. Also accompanying all of the acts was the Hackley House Band: Nailah Archer, Asher Beck, Wylie Churchill, Ava Derby, David Linnett, Jack Magidson, NJ Roc-Sennett, and Daniel Shola-Philips.
Overall, the night was a huge success and a lot of fun for not just the performers but the spectators as well. From veteran performers to first-timers, everyone showed off their gifts and were rewarded with loud rounds of applause from their friends. Senior Reece Weinberger was emotional when talking about the opportunity to perform onstage.
"Getting a chance at Spring Coffeehouse to have one last dance with my boys was a great experience. Since freshman year we would always joke around and practice a-cappella but with our time at Hackley quickly fading away we knew we had to get on stage and perform," Reece said.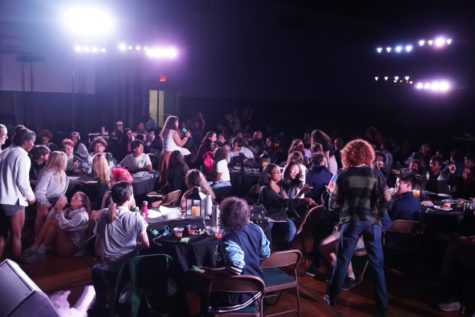 Leave a Comment