Fall Spirit Week is a way for Hackley students to show off their school spirit leading up to Fall Sting. Community Council members selected the themes for students to dress up in order to build anticipation throughout the week. 
Monday started the week off strong with "Jersey Day," where students were encouraged to wear a jersey representing their favorite sports team. 
Sophomore and Community Council representative Ben Iaderosa said, "I really enjoyed jersey day, it's cool to see all the people who like different teams and the teams they like." Freshman Andre McMahon agreed that this was his favorite day because he was able to wear his favorite football team's jersey, the Packers. Students wore jerseys representing NFL teams, soccer clubs, baseball teams, and even their own Hackley jerseys.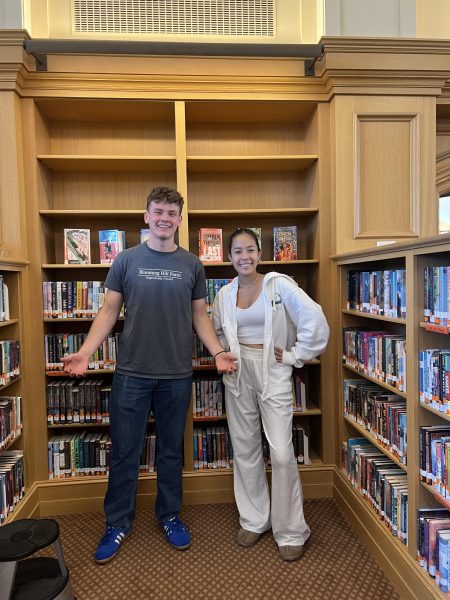 Tuesday's "Rhyme Without Reason" was a fan favorite among both students and faculty. The objective was to choose two costumes that rhyme but tend to have no correlation between them. Seniors Maura McGlarry and Sarah Metcalfe went as "alpine and valentine," and sophomores Zion Bennett and Ale Soto went as "the flash and trash." 
Wednesday had a huge turnout for "Adam Sandler Day". This theme allowed students to wear baggy t-shirts and shorts in order to impersonate Adam Sandler's iconic outfits. Many students participated in this theme because they were able to wear comfortable clothing to school, which they are not typically allowed to do.
Thursday was "Thootie Thursday," where students would wear outfits consisting of one color only. Upper School Mathematics teacher Peter Ruocco dubbed the name from his love for monochromatic outfits. Junior Peter Roberts came to school wearing a blue shirt, blue jeans, and even bright blue sneakers. 
Friday ended spirit week with "Blackout Day" for the Fall Sting. The majority of students participated in this theme wearing all-black outfits. Whether it was their jerseys for their games during the sting or just a black outfit, students showed off their school pride. Spirit week was a success according to senior Maia Larson, who said, "I think spirit week was a great idea from council because it kept all the students engaged to make us excited and hype for the sting at the end of the week."