Coming off back-to-back Ivy League titles and reigning NYSAIS champions, the Hackley Boys' Lacrosse team has continued their dominant success. In recent years, much of the Hackley Lacrosse team's success can be attributed to Senior captain Mac Broaddus.
At the age of eight, Mac began playing lacrosse for his local team in Larchmont, NY, and instantly fell in love with the sport. The next year he switched to club lacrosse and played for Team 91-Tristate, a top program in the country. Mac has continued to play for Team 91 throughout high school, where he attends tournaments across the country.
Last season, Mac proved to be one of the top goalies in NYSAIS, receiving First Team All-Ivy League honors and coming up with big saves throughout the season. With his tremendous 26-save performance in the NYSAIS finals against Poly Prep, Mac helped the boys win both the Ivy League and the NYSAIS championships.
"From an ability standpoint he just jumps off the page and is a huge contributor to our team's success," Coach Knopf said.
Mac is excited that he will continue playing Lacrosse at Haverford College.
"I was able to form a really strong relationship with the coach and pictured myself there on my first visit," Mac said. Along with his instant connection to Haverford, he will re-connect with Jake Abraham '21, former goalie for Hackley, who also attends the school. "Being able to play with Jake again and the opportunity to learn from his experience is something that also made Haverford super enticing," Mac said.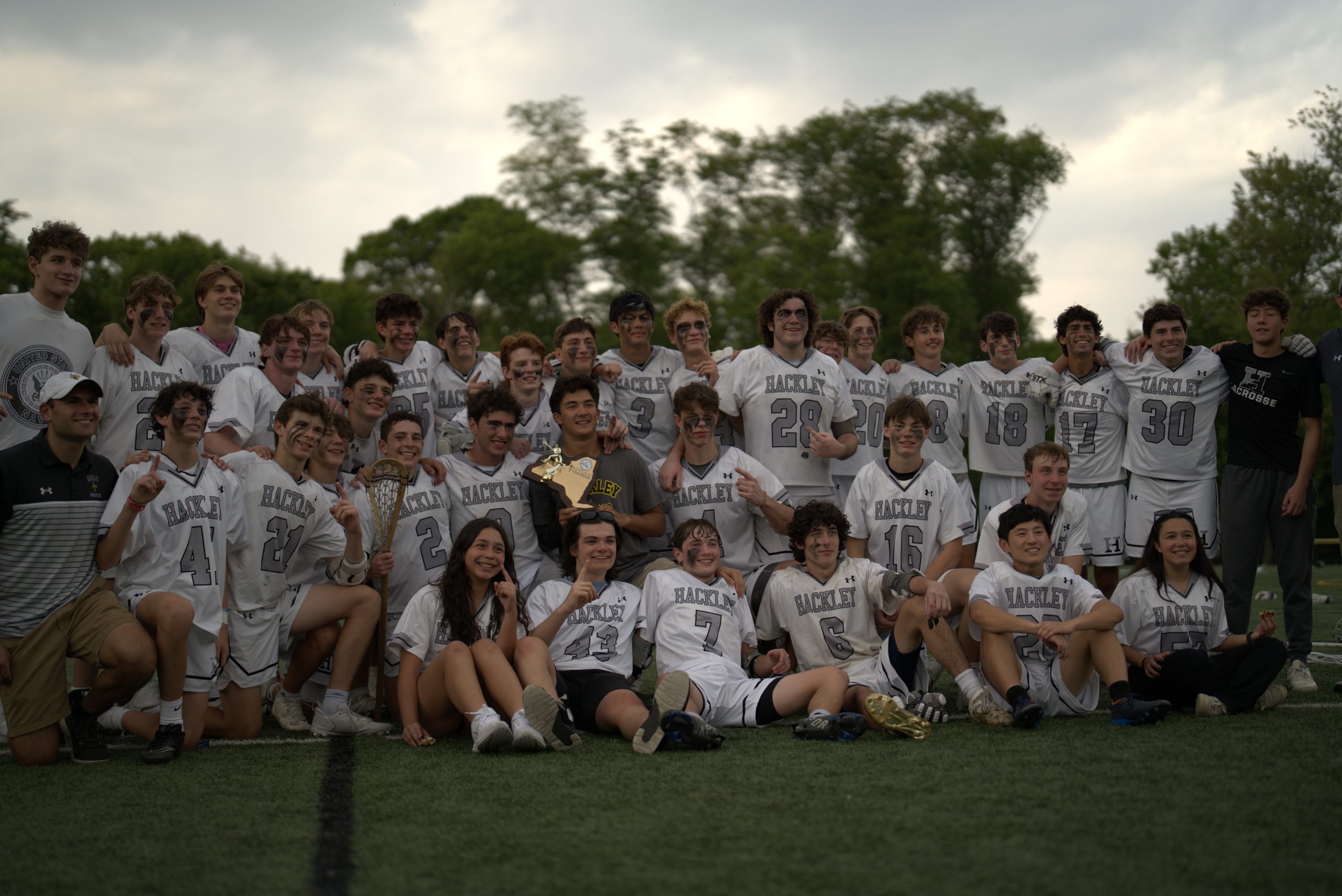 Voted team captain at the start of his Junior year, Mac received praise from both his coaches and teammates on his skills, but more specifically his leadership and the competitive edge he brings to the team.
"Mac just adds a really positive component to our team. He brings energy to each and every practice and pushes all of us to work super hard. He cares for the team and wants us to succeed," Senior captain James Goldman said.
"He's not someone who just has great abilities, but he's someone who embodies the values of our program in a way that helps other people be their best too." Coach Knopf said.
Mac's ability also has a profound impact on his teammates, giving them confidence and reassurance knowing that he is in goal.
"As a defender I'm able to play more freely and confidently knowing Mac is in goal. He's the best goalie in the league," junior captain Remy Becker said.
In preparation for the upcoming season, Mac along with several other teammates have been doing workouts provided by Coach Edwin, three days a week. Aside from these workouts, Mac has attended camps like "Goalsmith" on Long Island, where he was able to train with other top goalies in the surrounding area. In his free time, Mac plays wall ball or has a friend shoot on him to continue to refine his skills.
"Even though we won both the Ivy League and NYSIAS last year, it's super important that our team continues to train and stay in shape during the offseason in order to give us the best chance to repeat this season," Mac said.
With high expectations for the upcoming season, Mac is confident in the ability of the team and hopes to have another successful season with aspirations of winning the championship to close out his senior year.