For the second weekend in a row, Hackley was buzzing with prospective families hoping to learn more about the lower and middle schools. Balloons marked the paths around Hackley leading families to the Johnson Center where the event began. Hundreds of families were present for this event with the Johnson Center booming with conversations from families talking to Hackley's admissions team or student ambassadors to different prospective families getting to know each other.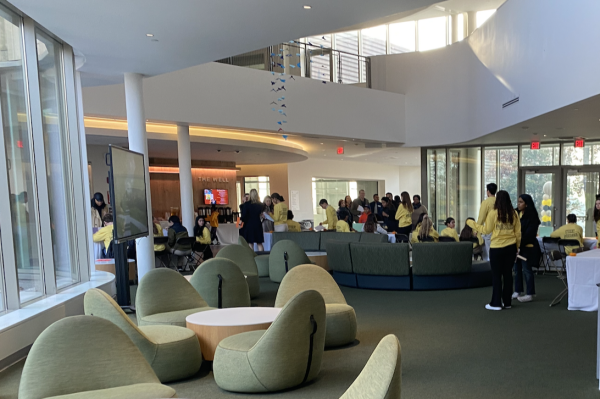 As families were checking in the Johnson Center and being greeted by student ambassadors, they filed into the Varsity Gym where middle school students, members of Hackley's orchestra program, were playing music to families as they entered. From there, Sheila Hicks-Rotella, Director of Enrollment Management addressed the families.
Afterward, middle school prospective families broke off into several groups where student ambassadors led them to their three demonstration lessons held within the middle school. At that point, lower school prospective families stayed in the Johnson Center to hear from various leaders within the lower school and Hackley more broadly. They then were led by other student ambassadors to begin their demonstration lessons. When the middle school families completed their demonstration lessons, they then heard from various leaders within the middle school and Hackley more broadly.
Following both the lower and middle school prospective families receiving demonstration lessons, they were led back up to the Johnson Center to conclude the event. 
For senior Talia Tirschwell, this was her final lower and middle school open house at Hackley.
 "I really liked getting to address the specific questions of my group when giving the tour and it was really nice to share my favorite part of Hackley with everyone especially because it's my last open house and it felt very wholesome to think about middle school and tell that to people considering to come to the school," she said.
One of Talia's favorite parts of the event was getting to attend the different demonstration lessons and see her old teachers, enabling her to reflect on her time at Hackley as a senior in comparison to her middle school days. One of her favorite questions that she was asked regarded the transition from her old school to Hackley as a sixth grader herself. She said, "I think being asked about the transition to Hackley was an interesting question to answer since it made me think about what it was like to go to Hackley in sixth grade and to share the experience of that transition with others."