Community Council Update
Your voices have been heard… After a long bout of speeches and voting forms, the community council leaders for the 2022-2023 school year are Steven Li '23 as President, EJ Regalado '24 as Vice President, and Edele Brennan '24 as Secretary-Treasurer. All three leaders have a plethora of new ideas to make the upcoming school year special and memorable. They also have unique backgrounds that shape their personalities which many may not know much about and will bring new ideas to the table, making the school year memorable.
Steven Li anticipates many challenges because he has "big shoes to fill." He said that "Daniel Cai was a great leader who made sure to keep the council organized so that they could get the work done efficiently." Daniel's main piece of advice to Steven was "You will figure it out." This comment left Steven confused; he has to figure it out all by himself.
Li hopes to find his preferred style of leadership in order to keep everything running smoothly. He plans on splitting the council up for the weekly meetings so that different groups can work on separate assignments and therefore get more done in their limited time.
Aside from his impressive leadership on council these past three years, Steven has many passions outside of school. He particularly enjoys running errands with his family, his favorite errand being grocery shopping! Li says that being an only child, he greatly values spending time with loved ones. Steven is also a golf fanatic and enjoys being competitive with his friends and family on the green. Also, the immense focus and discipline required in the sport strengthen his mental fortitude.
The 2023 school year will be the first non-Covid council year for EJ and Edele. They both said that this could pose challenges as they are unaware of what a "normal" year looks like and that it will be hard to navigate. One example is that creating new ideas may be difficult because the council is used to getting ideas shut down due to restrictions. The two also agreed that being in charge of people older than them can be awkward and EJ said that it will "definitely take some getting used to."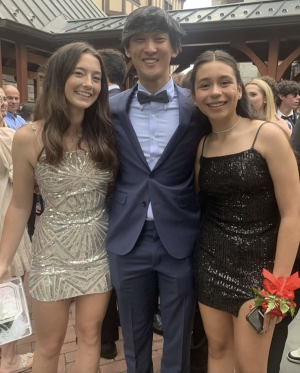 EJ values developing both new and old relationships with friends and teachers. Being a boarder helps her showcase this part of her personality to the fullest. It allows her to forge connections with the entire upper school. She is also one of five siblings, which has developed her skills of patience and caring! EJ helps her siblings with their homework and even assists in teaching her 5-year-old sister how to read. On the topic of her family, EJ's father immigrated to the US from the Dominican Republic, and because of these experiences, he taught EJ important skills of being independent and a self-advocate; these skills are imperative to a council member, from pitching new ideas to making them a reality, self-advocacy bolsters EJ's impact on the community.
To further develop these skills she worked as a lifeguard this past summer. Thinking on her feet and knowing when to take action are two crucial skills lifeguarding has taught her. She brings these skills to every Monday evening council meeting, ready to partake in thoughtful and dynamic conversations.
Similar to EJ, Edele also values fostering new relationships, which she does by playing on sports teams like soccer. To immerse herself in Irish culture, Edele plays folk music on the harp and piano in her free time. Edele worked at Katie's Cottage over the summer to further develop her skills of self-sufficiency. She plans to save up for college.
As for their vision for the upcoming year, all three council members agree that their main goals are: increasing communication between clubs and administration through social media and leading more community time activities in order to bridge current gaps between different grades and to get Hackley students more involved in activities on campus.
The Hackley community elected an amazing and diverse student council to represent them. The students can't wait to see what the new leaders have in store for this school year.
Leave a Comment