If you see the Hilltop packed with visitors and decorated with balloons on a Saturday in October, it probably means Hackley is holding an Open House. The Hilltop was buzzing with prospective families hoping to learn more about Hackley and the Upper School. With over 430 people in attendance, it's clear that interest in Hackley continues to be very strong.
Families first checked into the Johnson Center where they were greeted by student ambassadors with yellow shirts. Breakfast was then provided in the Nest of the Johnson Center for Health and Wellness and families were guided into the Varsity Gym where Hackley's jazz combo group was performing. Following this, Meghan O'Callaghan, Assistant Director of Enrollment Management, spoke to families. She was then preceded by Hackley's new Head of School Charles Franklin, along with Cyndy Jean, Associate Head of School. Afterward, Andy King, Upper School Director as well as Sheila Hicks-Rotella, Director of Enrollment Management, provided their remarks.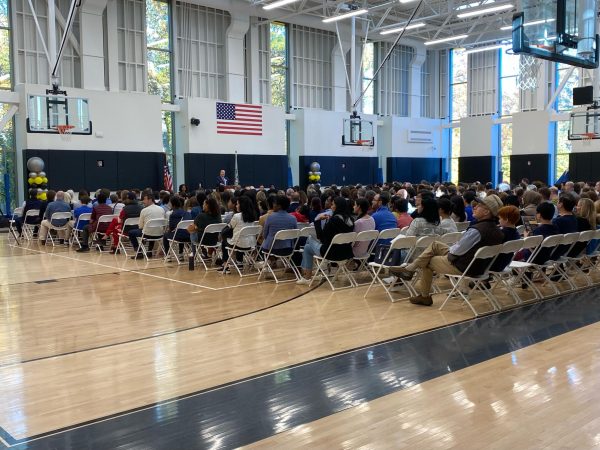 Following these initial remarks, prospective families listened to the Girls in STEM panel led by department chairs Melissa Tranchida, Diana Kaplan, and Melissa Boviero. The students who were part of the panel included seniors Phoebe Abrahms, Cydnee Copeland, Katherine Chen, Allison Chin, Remi Myers, and Annika Terezakis. 
One of the busiest times of the event was from 9:30-10:30 am in the Double Gym where families gathered for the Beyond the Classroom Fair. Several tables were lined around the exterior of the gym where students and faculty were promoting and willing to answer any questions regarding sports teams, Hudson Scholars, Independent Science Research Program (IRP), as well as College Counseling. 
Prospective families were then led by one or two ambassadors to begin their demonstration lessons led by Hackley faculty. Classes ranged from English, Math, Science, History, Latin, Spanish, Economics, and Art. Families were exposed to three demonstration lessons where they were able to sit in various classrooms and truly envision what classes would feel like for their children. 
Upper school history teacher Michael Bass led a demonstration lesson regarding the Case of the Shipwrecked Sailors. Within this case, three sailors were lost at sea after boarding a ship that sank and they believed they were the only survivors. The three men decided to draw lots and the one that was chosen would be killed to nourish the other two survivors, especially because they were without food for 25 days. The one that proposed the idea ended up being the one that was chosen, and refused consent. However, the two sailors still ended up killing him believing he would die anyway, particularly because he was already quite sick. The key question was whether or not these two sailors were guilty of murder. The country in which they were tried stated that anyone who deliberately takes the life of another person is guilty of murder. 
Mr. Bass remarked that most of his classes were incredibly engaged with this case and even some student ambassadors joined in on the conversation. Many families raved about his class and it shows just how powerful a demonstration lesson can be to reveal the inner workings of Hackley's teachers and curriculum. 
While the Upper School Open House technically concluded after the demonstration lessons, it did not stop prospective families from touring the Orchard and Apiary led by science teacher Tessa Johnson or learning more about boarding at Hackley. Additionally, a boarding tour was available for any interested families hoping their students could learn more about the daily life of a Hackley boarder. Afterwards, Madeleine Metzler, Director of Financial Aid, led a Financial Q&A within the Dance Studio of the Johnson Center where any questions in terms of affording Hackley were welcome and answered. 
Senior and student ambassador NJ Roc-Sennett reflected on the day itself and what she enjoyed the most, stating, "I definitely like when I lead the parents around because I can make conversation with them and hear their opinions on classes they took." 
NJ also played in the morning for prospective families with her jazz combo group so that families were able to witness the talents within the music realm of Hackley. She added, "I always like to show that performing arts at Hackley is thriving."
The songs the jazz combo group played were ones they were learning for their upcoming jazz combo concert and some were pulled from previous years. The number of students that played for the jazz combo also increased, "I think it was really cool that last year we only had three people, and this year it was four or five of us and it was nice to see that more people were willing to do it and it helps with the open house because it showcases how the arts can get involved as well," NJ said.
Overall, this year's Upper School Open House was a huge success and many thanks should be given to Buildings and Grounds for setting up the event, the admissions team, faculty, students, and more that helped make this event possible.