Representative Maloney raises concern in New York's 18th District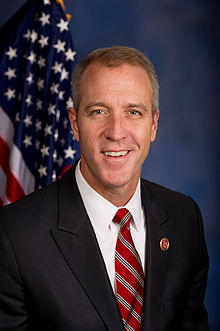 Constituents were skeptical of New York Democratic Representative Sean Patrick Maloney this September as he struggled to balance running for reelection to the House as a representative of New York's 18th Congressional District and vying for the democratic nomination of New York State Attorney General. While Maloney ultimately lost his bid for for New York Attorney General to Letitia James, issues related to his bid remain.
The 18th Congressional District encompasses parts of Orange, Dutchess, Putnam, and Westchester counties. Despite its position in predominantly democratic New York, Orange and Dutchess counties voted for Trump in the 2016 Presidential Election, so they are not always thought of as solidly democratic. (From the NYTimes article you quote below: The 18th District, which borders Connecticut, New Jersey and Pennsylvania, is solidly Democratic, with registered Republicans outnumbered by more than 20,000. Organizations that handicap political races have listed the district as safely Democratic, and Mr. Maloney has raised $2.3 million to Mr. O'Donnell's $267,000.
Maloney's prioritization of his Attorney General race over his House race fostered distrust among his constituents as they scrambled to find a democratic nominee in case Maloney won the democratic nomination for New York Attorney General. Maloney also used a substantial portion of the money he raised for his House campaign to fund his other race, therefore taking his supporters' donations and using them for something that they did not necessarily support. After James's win, Maloney has resorted to appeasing his district's population and winning back their lost trust.
As a result of the discomfort within the New York 18th Congressional District, a movement  has sprung up related to the Northern Westchester chapter of anti-Trump organization, Indivisible, called Keep NY 18 Blue. The group encourages Democrats to mobilize, vote, and also keeps them updated on new developments in local and federal elections.
Mark Dembo is both the leader of the Northern Westchester chapter of Indivisible and a self-described concerned citizen of the New York 18th Congressional District. After the Attorney General Election, Dembo said that while he "still admire[s] his [Maloney's] work and believe[s] that he is a strong representative for us [NY-18], I [he] feels that he decided to put his own interests ahead of those of his constituents. While I will still support him, it has made me a bit more cautious about him." This sentiment of distrust among Maloney's supporters has spread since the primary.
Despite the uncertainty on the Maloney front (on the part of his constituents) as a result of his prioritization of the AG race, the majority of Democrats still support Maloney as a result of the extremity of the anti-democratic Trump Administration. An article recently published in the New York Times reflects these feelings and states that "apparently [his constituents are] a forgiving lot, especially in a year when they are eager to wrest control of Congress from Republicans."
Dembo's feelings align with these thoughts on current Maloney support by saying that he does not "think it will affect how Dem[ocrat]s vote, but some swing voters or independents…could be swayed to vote differently." Dembo adds that he does "believe though, that ultimately there is too much at stake, and Maloney is still a strong Congressperson and most will see it that way." Maloney is therefore lucky that Republicans are in power, which means that Democrats can not have no room to be picky about the issues of their representatives, as the most important thing for NY18 Democrats is putting other Democrats in office.