Community Council Secretary/Treasurer Candidates 2017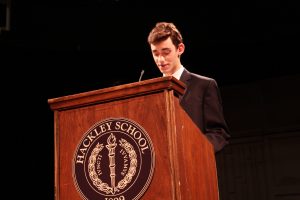 Name: Matt Shalett
Grade next year: 12th
Why would you be a good candidate for this position?
The reason I want to run for Secretary/Treasurer is because it allows me to better the Hackley Community and explore my interest in business at the same time. Two summers ago, I took a two week business course at the University of Michigan where I learned different ways to be able to accumulate money and use it effectively, both of which coincide with the expected duties of a Secretary Treasurer. I have also already come up with creative ways to generate funds for Community Council which will increase both the quantity and quality of school-wide events.
What have you done for the Hackley Community?
Throughout my 12 years at Hackley I've tried to become more and more involved in our community. Like some of my peers, I've been an ambassador since Middle School. This has allowed me to share my experiences at Hackley with prospective families. In seventh grade, I won an election for Grade Representative and, along with my Co-Representatives, organized events for my grade, like the trip the Bounce. More recently I've contributed to our community through my role as a Peer Tutor and through my Community Service initiatives. Being a peer tutor has given me the opportunity to tutor other Hackley students and give them help when they otherwise would not have been able to get it. Earlier this year I organized a Card Making event in the Lindsey Room where many kids in my grade came to make cards for the Pleasantville Cottage School, an organization I volunteer at. The event provided the Pleasantville Cottage School with over 50 handmade cards and further strengthened Hackley's relationship with the Pleasantville Cottage School.
What are your goals if elected?
If I am elected to be the Secretary/Treasurer there are several goals I'd like to reach. The first being to establish some form of a Playbill for the Hackley performances. I'd do this by approaching local businesses and selling ads in the Playbill which would go towards funding the Hackley performances and Community Council events. If that idea works I could expand it by selling ads in The Dial or Vision. I would imagine that a tuxedo store might buy an ad during Prom season, so it could potentially work. Another idea I have is to expand upon the parking spot raffles by creating more raffles that could allow the entire High school to participate, not just the juniors and seniors. One form this could take is to have an "Advisory of the Month" raffle and give the winning advisory a pizza or ice cream party. My final idea was to invest in the future Hackley grades. What I mean by this is to put a certain percentage of Community Council's funds into a mutual fund or savings account where, after spending 4 years generating interest, will go to the present senior class (or today's rising Freshman). I'd also like to find a way to implement the food truck idea that was brought up last year, but unfortunately never happened. I think if I were elected Secretary Treasurer I'd find at least one way to increase the current flow of cash to Community Council.
---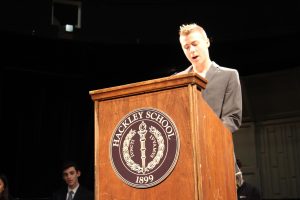 Name: Garrett Towne
Grade next year: 12th
Why would you be a good candidate for this position?
I am in relatively high level math, I will get along well with the President and Vice-President, and am very good at having fun which is crucial in order to create it for other people.
What have you done for the Hackley Community?
I spoke (along with four other students) with the committee which came to Hackley to learn about our college counseling process. I hold four Hackley records and one ivy record in swimming (soon to be many more).
What are your goals if elected?
Go platinum without features. I would meticulously put together a less ambitious amount of events but put significantly more energy into ensuring that each event is highly anticipated and really, really, really ridiculously fun. Something like a safe but rowdy campus slip-n-slide party before a big game.
Photos by Benjy Renton.