Art teacher Mark Green opens solo show in Philadelphia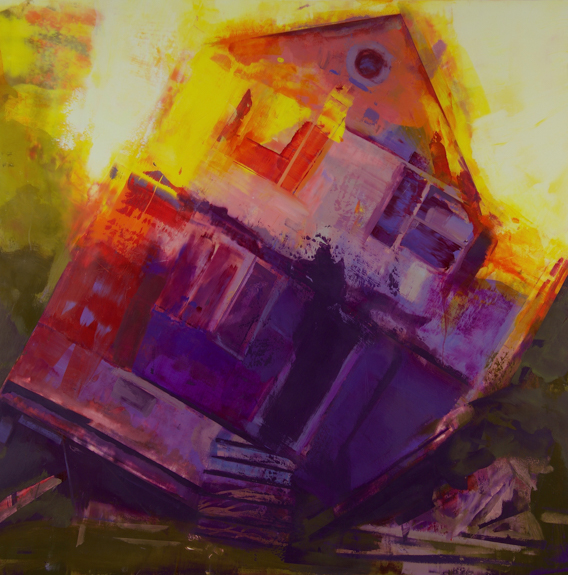 Hang on for a minute...we're trying to find some more stories you might like.
The majority of Hackley students are familiar with Upper School art teacher Mark Green's sunny disposition and friendly nature. While people may know him to help students with their works, he also spends time creating his own paintings which were recently featured in his recent solo exhibition with Gross McCleaf in Philadelphia, Pennsylvania.
Green's show featured his most recent works about which he remarked, "All of the paintings depict some kind of house or architectural structure. They are mostly invented from drawings I make from observation and memory.  They are recombinations of houses I've seen, creating hybrids."
While this isn't his first show by any means, complications still do arise. Green says his two most prominent difficulties were the pressure of the time constraint given by the gallery, and some unexpected framing issues that impacted the completion of the work.
When asked about how he dealt with the time constraint, Green said "Usually, with advance notice, an artist will have up to two years to produce new artwork for an exhibition. I was offered this particular show date quite late so the majority of the paintings were made from April through August. As a result, the paintings were somewhat rushed to completion."
Green has been passionate about art from a young age and has been painting and drawing architectural structures for quite a number of years. On how he was inspired for the pieces he submit in the show, Green said, "My father was trained asan architect and designed the home I grew up in.  Later, while living in France, I became inspired by the work of the French philosopher Gaston Bachelard and his book, The Poetics of Space."
This show in particular is meaningful to Green because it is his first solo show. He says he is usually included in shows with several other artists based upon a larger theme.
Like any artist, Green is very critical of his work. When asked about his favorite piece, he replied, "My favorite piece is always the one I am working on. After I finish painting, I don't want to see it again. I paint for the experience, not the product."
Along the same lines, Green said, "Painting is a need that fuels and recharges my artistic motivations, making me a better artist and teacher."