Hackley affirms its commitment to fostering cultural understanding at Round Square Conference
On October 9th, a group of delegates representing Hackley returned to New York after a Round Square trip to South Africa. The group was made up of seniors Francesca Docters and Julian Epps, juniors Varun Krishna and Grant Albright, sophomore Paola Garcia, and faculty members Dr. Adrianne Pierce and Mr. Steven Bileca. This group of people was sent to represent Hackley at the annual Round Square International Conference, hosted this year in Cape Town.
Each trip contains a theme and goal that the main conference is centered around, and schools from around the world send representatives to partake in the experience. The themes of the trip to South Africa were enhancing leadership skills, and learning to embrace diversity and people with different of opinions.
For the first few days of their eight day trip, the students attended the official Round Square Conference and met each morning at the Cape Town International Convention Center. The first two conference days consisted of speakers and a baraza group activity that followed. The word baraza is Swahili for meeting place, but Round Square uses this term to describe a small discussion group comprised of people of a variety of ethnicities and groups.  
After experiencing some of South Africa's most famous landmarks on Adventure Day, students immersed themselves in South African culture during Service Day. Attendees of the conference hailed from one hundred eighty schools from forty different countries spanning five continents. This diversity made it even more intriguing when the main activity of Service Day was to have representatives from each country perform a cultural dance for their peers. Hackley students performed a dance to Shakira's Waka Waka (It's Time for Africa).
The conference ended the following day, with Hackley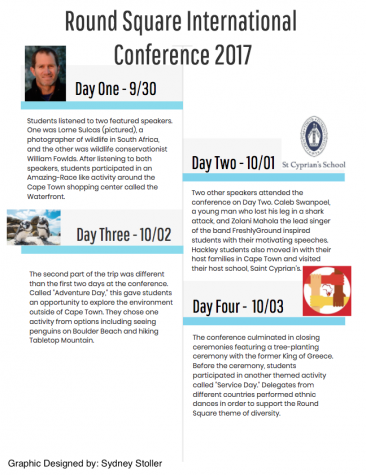 representative Paola helping the former King of Greece in the symbolic tree planting ceremony.
Following the conference, the delegates spent two
Graphic Designed by: Sydney Stoller
more days exploring Cape Town and immersed themselves even more deeply into South African history. Aside from participating in a safari in nearby Aquila, and a visit to the Botanical Gardens, the students and teacher explored Cape Town's history that was tainted by apartheid, a movement in South Africa that existed from 1948 to 1994 during which the government passed laws discriminating against people of color. The students on the trip spent most of their time in Cape Town in an area called District 6, where the remnants of apartheid are evident.
"There would just be these big beautiful houses but then behind them would be shack where people actually live and how we see the poverty. We visited houses that are not even as big as a classroom," said Paola.  
One of the most powerful moments from students' voyage to South Africa was their visit to a LEAP school in Cape Town. Langa Education Assistance Program, also known as LEAP, is an organization across South Africa that has funded six free secondary education schools. These schools are targeted to gifted students spanning three major provinces.
Junior Varun Krishna explained that he had many incredible experiences throughout this trip, but the highlight was visiting one of these schools. Krishna stated that "It really put into perspective what we have, and that we should be grateful for our lives.  It made me also realize how important it is to give back to those less fortunate. It is only when we help one another, can we grow as a society, whether that be on a small or large scale."
It is because of amazing experiences like those had by the five students that went to South Africa that Round Square is such an important part of the Hackley community. The trips are immensely rewarding and rare experiences that offer insight into foreign cultures that cannot be achieved any other way. Next year's Round Square International Conference will be held in Canada, so delegates will have the same incredible experience, minus the jet lag.