Perspective of a hybrid student
Change and adjustment is a prevalent theme in 2020 with COVID -19 impacting the lives of millions around the world over the course of the past nine months. With schools reopening, Hackley's priority is to make everyone feel like they are in a safe and comfortable environment. Students and teachers have been given the option to participate in either hybrid learning or full in-person classes. Due to the difficult circumstances, the school is facing, it is obvious that hybrid learning has both its advantages and disadvantages.
The hybrid learning option was chosen by students/families who wanted to take a more cautious approach to returning to school.
Sophomore hybrid student Willow Quattrone said,"I chose to do the hybrid option because I figured it was better safe than sorry and I wanted to see if any cases would pop up in the first four weeks before trying the in-person option.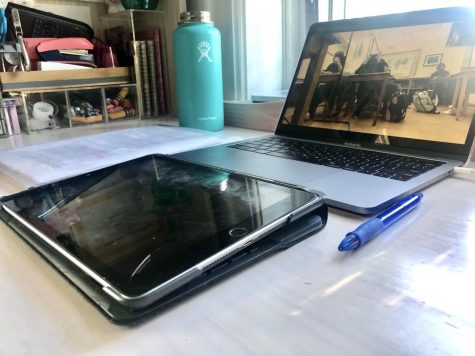 Willow added that even though she felt Hackley is taking the necessary precautions, no place is safe at the moment. She is eagerly waiting for normality to return, and feels that "waiting it out is the best way to achieve the outcome."
Junior Dionne Chen, who was previously a boarder, opted for hybrid learning this fall because that was the decision that her mother felt most comfortable over concern about her being in close proximity with other boarders. Dionne finds that in classes like English and history, which are discussion-based, it is difficult to hear her classmates' ideas. Dionne also feels that being in a hybrid class can be "a little awkward" because she is projected on the board, so the entire class can see her. However, luckily for her, in most of her classes, there is at least one more person doing hybrid learning, which lessens the awkwardness.
Dionne expressed her gratitude for her teachers by stating that she appreciates their checking up on her from time to time, and asking for feedback on how they can make her experience better. One thing that Dionne feels could be improved is the technology, such as the webcams, as she can not always clearly see her peers.
Adjustment is inevitable during times like this but Hackley is getting back into the rhythm of things, and trying their best to include all students. There are improvements to be made in the hybrid learning section and the students hope that these issues (of webcams, and classwork) will be taken into account and addressed. Nonetheless, for now, the students are just glad to be back at school, whether that be participating from home or in school.