Increased participation in boys soccer leads to innovative solution
This soccer preseason, Coach Gillard and Coach Wright were very surprised and excited to see nearly 50 players signed up for the boys soccer program. With all the eager players, this left them with a very challenging decision as to how they would split the teams.
Coach Gillard, head coach of the varsity boys soccer team, decided to take 21 players onto his team. This left Coach Wright with nearly 30 players on JV.    
What Coach Wright and Coach Gillard decided to do was to split the remaining 28 players into three teams; the A, T, and B teams. In Coach Wright's eyes, the split of the team "allows for everyone to have a chance to succeed at the JV level and play others at their same skill level."  
Each team is now made up of eight players with the A group being the highest and the B group being the lowest. There's also a G team, made up of the two goalies, Teddy Roberts and John Churchill, who are required to attend each game. Each game, one of the A or B teams will play along with the T team, which is better known as the transitionary team who will play in each game. 
T team sophomore player Jason Berger started the season off as a member of the B team but was able to work his way up onto the T team. One difference that Jason noticed between the T and B teams is the number of games he has been asked to play in.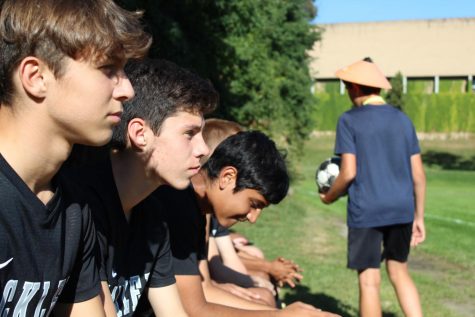 "I've been asked to play in both the A and B games so it's very physically taxing on me at times with 3 games a week," said Berger. "I think it's good that we are giving everyone a chance to play, but I do believe we should lessen the games in order to keep our bodies fresh and ready to go," he added.  
Coach Wright said that the split of the players into three teams "has been a success so far and I think this is shown through the many hard-fought games that we have played this season."  The JV soccer teams have been much more successful than in past years, as the team has won several games including against Trinity and Collegiate.   
For the varsity team, the season so far has been successful.  Of the 21 players Coach Gillard brought with him on varsity, 5 are freshmen and 2 of them are sophomores which shows the promising young talent in the Hackley boys soccer program.
Callum Stewart-Wood, one of two sophomores on boys varsity soccer said that this season has served as a key year of development for him. 
"I've been able to improve my various skills by playing with high-level players and coaches who push me harder every day," Stewart-Wood said.  He also went on to say, "I think we have a lot of good young talent on the team now which promises for an exciting future for the team." 
The varsity soccer team has had some tough matchups at times, but have also had promising moments with decisive wins over Riverdale and Trevor Day. The young talent in the boys soccer program promises for an exciting future of success for the program. 
Leave a Comment