Arjun Dayal makes and donates medical masks
Junior Arjun Dayal has joined the fight against COVID-19, 3D-printing protective masks, and sending them to hospitals around the country. The shortage of PPE, or personal protective equipment, has been a hot topic in recent coverage of COVID-19 as doctors and nurses are overloaded with the sheer quantity of cases in coronavirus hotspots like Manhattan and Westchester. Arjun's initiative to help health care workers has been a lifeline for many in the industry, who are fighting this pandemic head-on.
"They came at just the right time when we were feeling neglected and in desperate need of PPE," a doctor from Mount Sinai is quoted as saying in thanks on Arjun's website.
Every day, we hear news from the frontlines about how COVID-19 is devastating American hospitals. Doctors and nurses have to ration and reuse protective gear, the costs of supplies are steadily increasing, and hospitals are running out of ventilators and other crucial equipment. It seems like the only thing we can do right now is stay home, stay safe, and stay healthy.
Doing this may limit the number of cases doctors and nurses deal with daily. And though it's hard to feel brave or helpful when in the safety of our own homes, Arjun Dayal has proved that it is not impossible.
"When the COVID-19 crisis started, I found out there is a real shortage for PPE's in the US, and wanted to find out how I can help," Arjun explains on his website. He started this service project during spring break and has been working on it "every free minute" since.
"The whole process of testing designs and coming up with the final design took about a week." Including, workshopping through different styles, altering them, producing prototypes, and working with some Hackley teachers: "I was lucky to get help from Hackley teachers, namely Mr. Dioguardi and Ms. Coble. Mr. Dioguardi has been h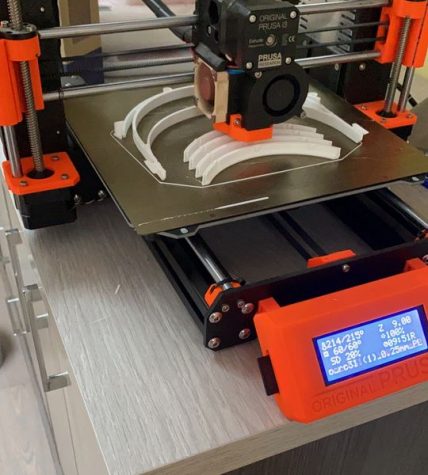 elping me manufacture the masks and shields on the Hackley 3D printers, and Ms. Coble has been helping me find materials I need to produce the face shields and masks."
Arjun had some experience before starting this project which, to some extent, prepared him to help. He joined a robotics team in 2017, bought a 3D printer, designed robots from scratch, built 3D-printed prosthetics for charity, and overall had a good background in design and machine printing. However, Arjun never had to deal with such robust demand for his products before on the robotics team.
"From the time I got my first order of two masks and two shields to my big orders, it must have only been a couple of days. Nothing I've ever done has prepared me for that kind of growth of orders that quickly. I had to rewrite the playbook when it comes to production, so I came up with a system that would be the most efficient of getting the masks and shields 3-D printed all the way to assembly," which now involves laser cutting the face shields and using both a Prusa i3 MK3 printer and a Lulzbot Taz Workhorse, highly-rated and powerful machines, to keep up with the demand.
"I worked in a room that I wouldn't be in usually, wore a mask and gloves and got to work," Arjun said, taking all the precautions necessary to ensure the safety of himself and the hospitals he was donating to.
"There is still debate about how long the virus survives on plastic, but most sources mention 2-3 days. That means that by letting the packed face shields sit for 2-3 days before distributing them, you'll greatly reduce the risk of transmission," Arjun wrote on his website.
Arjun took serious safety measures to ensure that his Montana Masks and RC3 Face Shields are sterile enough for a working hospital: He says that he wears "a face mask and a fresh pair of gloves when collecting each batch of printed parts," before storing the parts in a "sealable bag." Arjun also advises customers to spread their orders out upon arrival in order to avoid cross-contamination.
"For the initial donations I made to hospitals, my parents had purchased the necessary materials to produce the masks and shields. However, after I got media coverage from Fox, ABC, News12, and others, my friends and family reached out and wanted to donate in their own way to the initiative. All the funds I have received will be used towards current and future orders," Arjun said.
The pandemic pushed medical professionals to the frontlines of danger. It's hard to even comprehend what they are coping with on a daily basis, but Arjun has proved that it doesn't make sense to add inefficient stores of protective gear to the list when we have the equipment and information we need to outsource production.
Like Arjun, Hackley sophomores Zach and Zara Yusaf are making 3-D printed masks to protect healthcare workers. Although the burden of care often relies on too few with too little, people like Arjun, Zach, and Zara can provide very meaningful service with little experience on the standards of PPEs or in the medical field.