Dr. Derrick Gay Works with Administration to Further DEI Work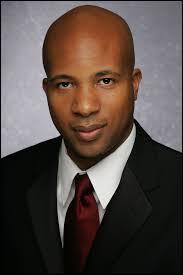 Derrick Gay, Diversity and Inclusion Strategist, visited Hackley students virtually on November 16th as the first of a series of assemblies with him. His work spans from educating on whether words are understood the same by everyone to discussions about what 21st-century children need to succeed in the current world.
The past discussion with Hackley students was titled "The Double-Edged Sword", where Dr. Gay defined diversity to students. The conversation utilized student participation in polls and the chat function of Zoom, asking whether they felt they were included in the word diversity. Through encouraging students to reflect on their own perspective of diversity, the assembly intended to challenge students to reflect on their initial views and be open to changing their own definitions.
"Although we were not able to all be [in] one room, I enjoyed how there was participation through the chat. I look forward to [having] Hackley proceed with visits related to DEI." Megan Chin, class of 2022, said.
Dr. Gay's first visit with students is a continuation of a longstanding partnership with Hackley. Prior to this past assembly, he has been working with Hackley for the better part of three years. These visits have included discussion with faculty, the board of trustees, all employees, and parents.
"This is so that we can build the programming…so we can have courageous conversations around topics that really matter and are challenging around race, identity, what it means to belong, what it means to be excluded," Steven Bileca, Assistant Head of School for Academic Affairs, said.
The long-term goals of these visits have been mapped out by Hackley's executive Diversity Equity and Inclusion ("DEI") team. The group consists of DEI coordinators in each division, division directors, Mr. Bileca, and Michael Wirtz, head of school. At the outset of the partnership, the team mapped the steps that would lead to a longstanding partnership and lasting change for the community. The intention of recurring visits is to make more of an impact than a one-off assembly. While one-off visits have their value, they do not communicate the lasting impact that the DEI team hopes to instill.
Cyndy Jean, Cyndy Jean, current Middle School Director, will serve as Hackley's first Assistant Head of School for Community and Inclusion beginning July 1, 2021. Ms. Jean currently leads the Executive DEI Team.
"The climate survey really is an effort to hear, collect information. To hear the stories of every member of our community. What is it like to be a part of the Hackley community for you as an individual." Ms. Jean said.
The school conducted a climate assessment on January 19th. The intention of the climate assessment is to understand "the experiences of community members here and determining how we can fill in gaps" and "gaining knowledge" Ms. Jean said. The assessment is lead and will be reviewed by Dr. Gay. All community members including parents, faculty, and students are participants whose responses will be read by Dr. Gay. Through the assessment, the DEI team will better understand themes in the community and will be able to respond.
"We don't want Hackley to be a school for just a group of individuals or a type of profile. We want it to be a place where everyone feels like if I'm here, I matter, I am valued, and I have a say." Ms. Jean said.
One of the first components of the process was an eight to nine-month undertaking of creating a DEI Statement of Purpose. The statement of purpose now acts as Hackley's mission and provides a frame for the school's work going forward. The current DEI plan, which includes Dr. Gay's visit, has been structured around the statement of purpose.
"Especially around issues of ethnicity and race, these are hard topics to speak about clearly and with kind intentions in ways that aren't misunderstood. It is both understandable and unfortunate that it's easier to be silent on these issues…for too long, silence has [had] lasting, damaging consequences," Mr. Bileca said.
The partnership with Dr. Gay hopes to uncover these moments of silence with productive forms of communication. While this work is hard work that "we will never be done with", the intention is for this conversation to become part of the curriculum. In the same way that normal course subjects are part of what defines the community, this work and the associating statement of purpose will similarly become part of the Hackley identity.
Trust, empathy, flexibility, generosity, and the benefit of the doubt are values that are paramount to the community. Dr. Gay's visits hope to stimulate and create the space for conversation among students with differing views, and from these discussions, these values can emerge.
For these conversations and values to become visible, student involvement is essential. It is hoped that through the organized opportunity for conversation and the continuation of Dr. Gay's visits, these two events will facilitate each other in increasing student communication. Additionally, Dr. Gay intends to hold a climate assessment in January with all community members. The evaluation intends to provide a base to understand how work on discourse can move forward and to understand community progress in the future.