This Year is Mr. Wirtz's Final Year as Head of School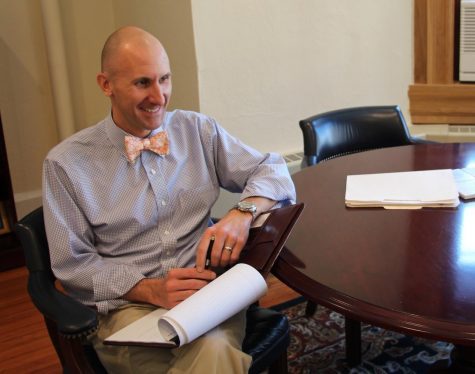 On Tuesday, September 27, Michael Wirtz, Hackley's Head of School, announced that the 2022-2023 school year would be his last year on the Hilltop. In an email to Rodge Cohen, the President of the Board of Trustees, that was shared with the Hackley community, Mr. Wirtz reflected on many of his accomplishments from his time at Hackley, while saying that "the time is right for me to pursue new opportunities that continue to align personally and professionally."
Mr. Wirtz was appointed Hackley's twelfth Head of School on July 1, 2016. Before this, he worked as Assistant Head of School/Dean at St. Mark's School in Southborough, MA for six years. He also taught at Concord Academy in Concord, MA for nine years prior to working at St. Mark's.
Students had trouble finding a reason why Mr. Wirtz was leaving in the letter. When interviewed by The Dial, Mr. Wirtz did not elaborate on the reasons he provided in his letter of resignation but did address his optimism for the future of Hackley.
According to Mr. Wirtz, "the school's in a really strong position, you know, there's a lot of great things happening, a strategic plan is up and running and mature, the building is starting to be built, got great people here, great leadership team, so you know there's all these things that we can point to [that show] the school's in really good shape and that means it'll be attractive for another head of school to come in and take over."
This strategic plan that Mr. Wirtz strove to develop standard competencies required for every Hackley graduate. Hackley has started to implement new aspects into the curriculum that will redefine assessments to support desired learning, strengthen the responsibilities of students, develop research centers in order to pursue research in other disciplines, and create new opportunities for teaching and learning. This also includes the plan for the Creative Center for Arts and Technology, a new building replacing the old Performing Arts Center that will be ready for use in 2024.
Mr. Wirtz also said he hoped that his time at Hackley has made the school better than it was when he first arrived on campus and that he has mixed feelings about leaving Hackley.
"You know, I would say it's the sort of bittersweet nature of leaving behind people, right, and a place that you've worked really hard, but also excitement for the future. I think a new adventure. It's similar to the way probably seniors feel," he said.
When looking to his future after Hackley, Mr. Wirtz said that he is not only looking at new opportunities in schools but also outside of schools, though nothing is certain yet.
Mr. Wirtz is the proudest of the people he has hired throughout his career at Hackley and how they have made the school a better place. He adds that he is truly going to miss the people at Hackley the most.
Many students had similar reactions to the news of Mr. Wirtz's departure. They were confused why he was leaving, as he had only been at Hackley for a relatively short period of time.
"I didn't see it coming at all," said junior Rowan Pedraza, "I remember reading the article and looking for a reason why and I didn't really find one so it was just kind of confusing."
Some students seemed less surprised and commented on Mr. Wirtz's relationship with the students.
"[Upper School Director Andy] King does a really good job of knowing people's names and saying hi to them. [Mr. Wirtz] is very far removed. I didn't read the email to be honest," senior Ella Sonnenburg said.
Some students had a more positive outlook on how Mr. Wirtz delivered this message to the school.
"I think it was professional. That's how you should resign," sophomore Cole Byrne said.
While Cole liked the way he delivered this message, sophomore Megan Hopkins said, "I think I would've preferred in person, I thought the reading the letters to [Mr. Wirtz and Rodge Cohen were] kind of weird."
Although we will be learning more about the search for the new head of school from the Board of Trustees within the next few weeks, Mr. Wirtz expects that we will not find out who the new Head of School is for a few months, at least into 2023.
Leave a Comment