Is it too easy to create new clubs?
Clubs are an integral part of the community, allowing students to connect with their interests and for leaders to share their passions with the school. Though clubs are important to the student community and engagement, some students have expressed their concerns regarding the overwhelming number of options available. This raises the question of is it too easy to make new clubs.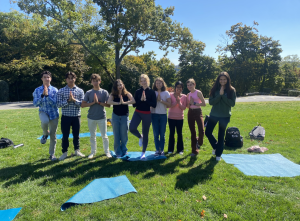 Senior Malcolm Krolick said that "there are way too many clubs" and this leads to a more decentralized system where he cannot get as effectively involved in clubs as he would like to. Malcolm also said that the overwhelming number of clubs leads to "a lack of leadership structure" as people may be juggling leadership roles in several different clubs, making it difficult for them to dedicate themselves to every group equally.
Due to a large number of clubs present, there is sometimes overlap between the subjects discussed in each group. For example, the Girls Who Code club, the STEM club, and the Computer Science club all discuss computer science topics and this overlap can seem unnecessary. Students who share such interests should collaborate with one another instead of staying separate.
This overlap also splits the student body because students who would participate in the CS club would not go to Girls Who Code and vice versa. This creates a divide in the community of students interested in computer science instead of bringing them together.
Senior Jennifer Allan said, "The problem isn't necessarily that there are too many clubs but that these clubs don't do enough".
Jennifer pointed out an important detail. Many clubs registered at the moment solely have Instagram accounts where they post from time to time and do not hold official meetings. This does not encourage student engagement in the same way that in-person meetings would. These social media accounts do not foster an environment where the community can share ideas. On the other hand, in-person meetings allow students to meet new people across different grades who they would not normally interact with. It brings people together.
Junior Teddy Estrada said, "It is hard to maintain good relationships with clubs". The sheer number of clubs makes it difficult for students to get actively involved in everything they sign up for. From personal experience, Teddy said, "there is a lot of overlap between the meeting times which makes it hard to attend everything".
Leave a Comment