Ms. Jean Announces She Will Be Staying On the Hilltop
When Cyndy Jean first came to Hackley, she was an Assistant Teacher. Now, she is going to be taking on a much bigger role: the Associate Head of School.
On May 25th, Ms. Jean accepted an offer to remain at Hackley as Associate Head of School, rather than leave to be Assistant Head of School for Academics at Thayer Academy in Braintree, Massachusetts. 
A lot of time and thinking went into this difficult decision. 
"I think when I elected to leave earlier in the fall, it was a really hard decision for me to leave Hackley. This is a place that has really nurtured my growth as a professional," said Ms. Jean. "Hackley poured so much into me as a teacher and as a leader, so it was really hard for me to say that I was leaving."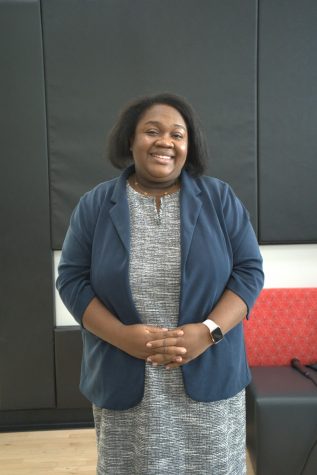 After announcing her original departure, Ms. Jean had many conversations around the school regarding the work they had been doing, what direction the school was headed, as well as how to create a smooth transition between the community and the new head of school. Ms. Jean said that she really wanted to play a significant and supportive role in this process. While it was very difficult for her to tell Thayer that she had changed her mind, she knew that this was the right decision for her. 
"I'm so so happy that I get to stay at Hackley, that I get to continue to work with the amazing people who are here, and my kids will be able to go here." 
As for her new role, Ms. Jean is still working through exactly what this will look like with the new head of school, Charles Franklin. She will be a close partner, supporting him, as he navigates his new role on the Hilltop. 
Ms. Jean will also continue to do some of the work she currently does, such as hiring and training, while restructuring other roles to incorporate other leadership positions. 
Eventually, there will be a new DEI coordinator; in the meantime, Hackley will rely on the coordinators that exist in each division of the school who Ms. Jean will coordinate with. 
Now that Ms. Jean is staying on the Hilltop, she expressed what she is most excited to see in the community going forward.
"Hackley is such a special place, and I am excited to see the new [Arts] Center, and excited to see what changes in terms of the new classes and being able to come together as a community for bigger assemblies," she said, "I'm excited for all the amazing work we're doing in the forest, and a lot of the things that our strategic plan has been supporting, to see how that becomes a real marker of who we are in the school."
Ms. Jean is looking forward to her new chapter on the Hilltop, and said, "I think Mr. Wirtz has done such a beautiful job leading us through this next chapter of Hackley, and I'm really excited to see where Mr. Franklin will pick things up and help guide us into who we are." 
Leave a Comment